Industries flourish in Snohomish County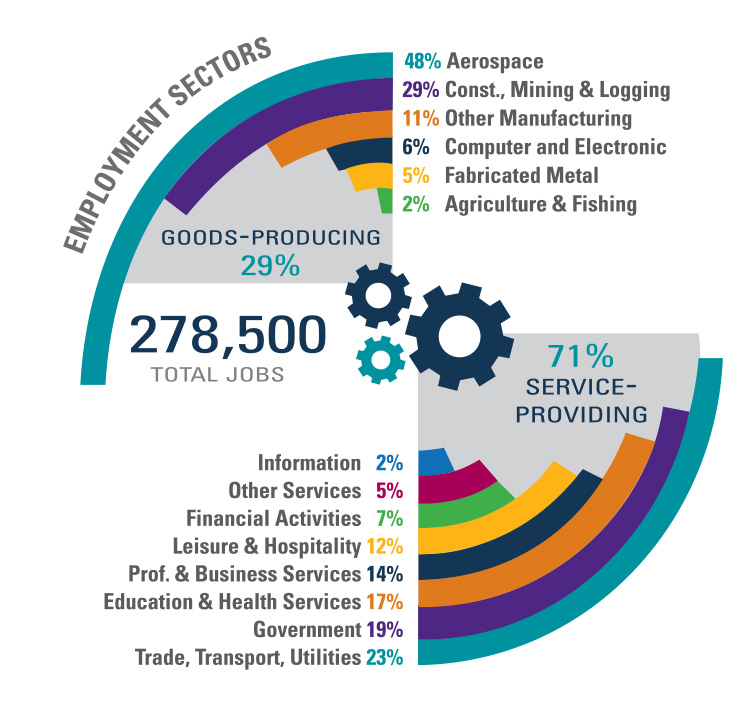 As an area supporting a diverse and vibrant economy, Snohomish County is home to over 20,500 businesses. They range from small family farms specializing in organic foods, to the world's largest advanced manufacturing facility producing state-of-the-art aerospace equipment. The 50 largest employers account for over 96,900 jobs, or about 34% of the County's total employment.
The following target industries are those highlighted by a broad range of support and distinct benefits from the County's unique advantages.
Aerospace
Boeing headlines the list of aerospace companies flourishing in Snohomish County. Its Everett Assembly Plant is the largest building in the world by volume and has delivered the 747, 767, KC-46A Tanker and 777 models to worldwide customers since 1976. Boeing completed a $1 billion Composite Wing Center to support the new 777X, which is forecasted to add 8,000 jobs to the local economy.
The regional supply chain for the aerospace industry includes 600+ companies, supporting Boeing, as well as Airbus, Bombardier, Comac, Embraer, Sukhoi, and Mitsubishi. In total, 46% of all aerospace workers in the State of Washington are employed in Snohomish County.
Adding to future growth in the Snohomish County aerospace industry is space and defense technologies, matching international requirements for further development. 
Information & Communication Technology
High technology industries also find ample opportunities in Snohomish County. Fluke Corporation, and its Fortune 500 parent, Fortive, have their headquarters and operations in the County. Amazon has broken ground on a new state-of-the-art fulfillment center in Arlington.Other notable companies include biotech SeaGen, T-Mobile, Google and AT&T.
---
Life Science
Snohomish County is the center for Washington's medical device manufacturing and biotechnology. Providence Health and Services recently invested $500 million in a healthcare facility that participates in clinical trials for cancer, vascular, cardiac and orthopedic care. The County's medical device cluster includes headquarters and manufacturing for two international ultrasound leaders - Philips and Fujifilm Sonosite. Biotech companies like AGC Biologics, Seagen and Bristol Myers Squibb each have a significant presence in Snohomish County.
Blue Economies
The western boundary of Snohomish County is the Puget Sound. As such, maritime industries have historically had a significant impact on the economy of the region. One major contributor is the Port of Everett on Port Gardner Bay at the mouth of the Snohomish River and next to the U.S. Naval Station Everett. The Port is the #1 Customs Export District on the U.S. West Coast. It has been in operation for over a century, creating  economic opportunities driving a number of maritime supply chain companies and jobs. Today, the Port supports more than 40,000 jobs in the surrounding community and contributes $433 million in state and local taxes.
The Port of Edmonds in South Snohomish County offers marina facilities and services for recreational boating, including a boat launch, moorage and storage. The Harbour Square Business Complex offers available office space at the Port amongst a broad range of businesses.