Snohomish County Opportunity Zones provide business advantages
A number of Opportunity Zones exist within Snohomish County to meet the needs of a broad range of industries. Opportunity Zones are tax incentives to encourage corporations or individuals with capital gains to invest in low-income and undercapitalized communities.
Three main tax benefits exist:
Temporary deferral of taxes on previously earned capital gains. 
Basis step-up of previously earned capital gains invested. 
Permanent exclusion of taxable income on new gains. 
Snohomish County Opportunity Zones
Opportunity Zones
Arlington Airport & Marysville North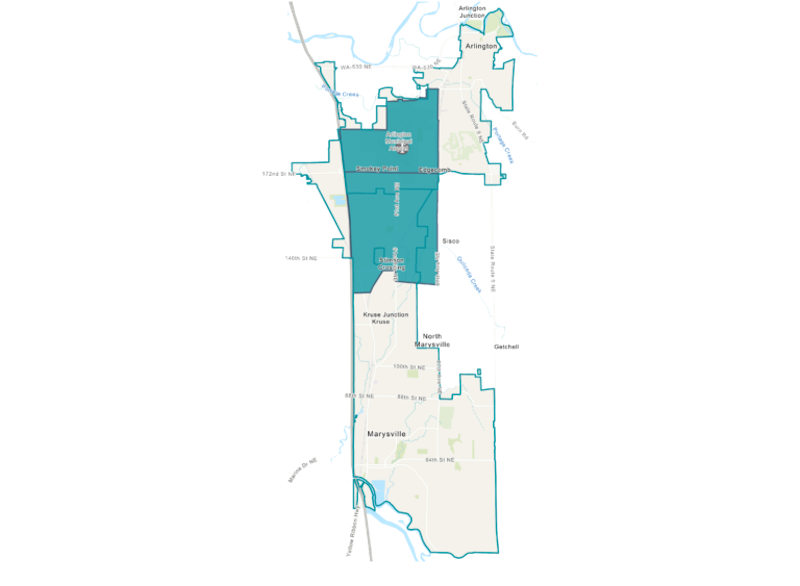 Coordinated infrastructure investments on US Census Tracts 53061052803 & 53061053509
Arlington
The City of Arlington has a hometown feel with big town opportunities. The city combines a solution-oriented approach with environmentally friendly practices to drive the community forward. US Census Tract 53061052803 includes:
2,291 acres in Arlington portion of Cascade Industrial Center
144.5 acres in the Opportunity Zone ready for development
Seven greenfield parcels with 50-100 acres available
Infrastructure investments being made for I-5, arterial streets, and utilities
Marysville
The City of Marysville is the second largest city in Snohomish County with nearly 70,000 residents and one of the fastest growing communities in Washington. The City is making major infrastructure investments to accommodate this growth:
Two regional drainage ponds created
New freeway interchange funded at I-5 and 156th St NE
Designing new arterial road system
Kolstrand, Marine Industry, is relocating from Seattle to Marysville
Property Tax Exemption: Manufacturing Uses SIC Division D
Create at least 25 full-time jobs
Pay at least $18/hour
Building improvements 10,000 square feet or larger
Minimum improvement value of $800,000
Applies to all local (city and County) property taxes
Town of Darrington
US Census Tract 53061053700
Everett
US Census Tracts 53061040200 & 53061040700
Everett Downtown
15 city-owned acres
Easy access to I-5 and Highway 2
Multifamily Property Tax Exemption
Historic walk-able core
Spectacular 360 views
Cultural and civic center
Funko Headquarters
Riverfront with 1,800 homes
Commercial availability
Metro Everett plan
Robust transit
North Everett
Everett Community College and Washington State University Everett Campuses
15-acre Everett Housing Authority Property
Cascade and river views
Legion Golf Course
Providence Hospital
Riverside Business Park
Workforce Transportation
Broadway commercial
Lynnwood City Center
US Census Tract 53061051400
Zoning in place for 9.1 million square feet of high-density office, retail, residential, and cultural development. The area is envisioned to become a vibrant commercial center and appealing place to live, work and play.
Encompasses City Center development area and Lynnwood Transit Center
Lynnwood Link Light Rail Open for service in 2024
Significant investment in infrastructure improvements
Paine Field
US Census Tract 53061041901
Paine Field Airport includes approximately 120+ acres of land ready to develop for commercial or light industrial projects. The mission of the airport is to contribute to the economic vitality and quality of life in the Puget Sound Region, through high quality aviation and industrial services, facilities, and interaction with the community. Commercial air service provided by Alaska and United Airlines.
30-50 year leases available
Equal to investment made
120+ acres ready to develop
Commercial zoning
Light industrial zoning
Traffic mitigation credits
Wetland credits
Fast track aerospace approval process