Community Profiles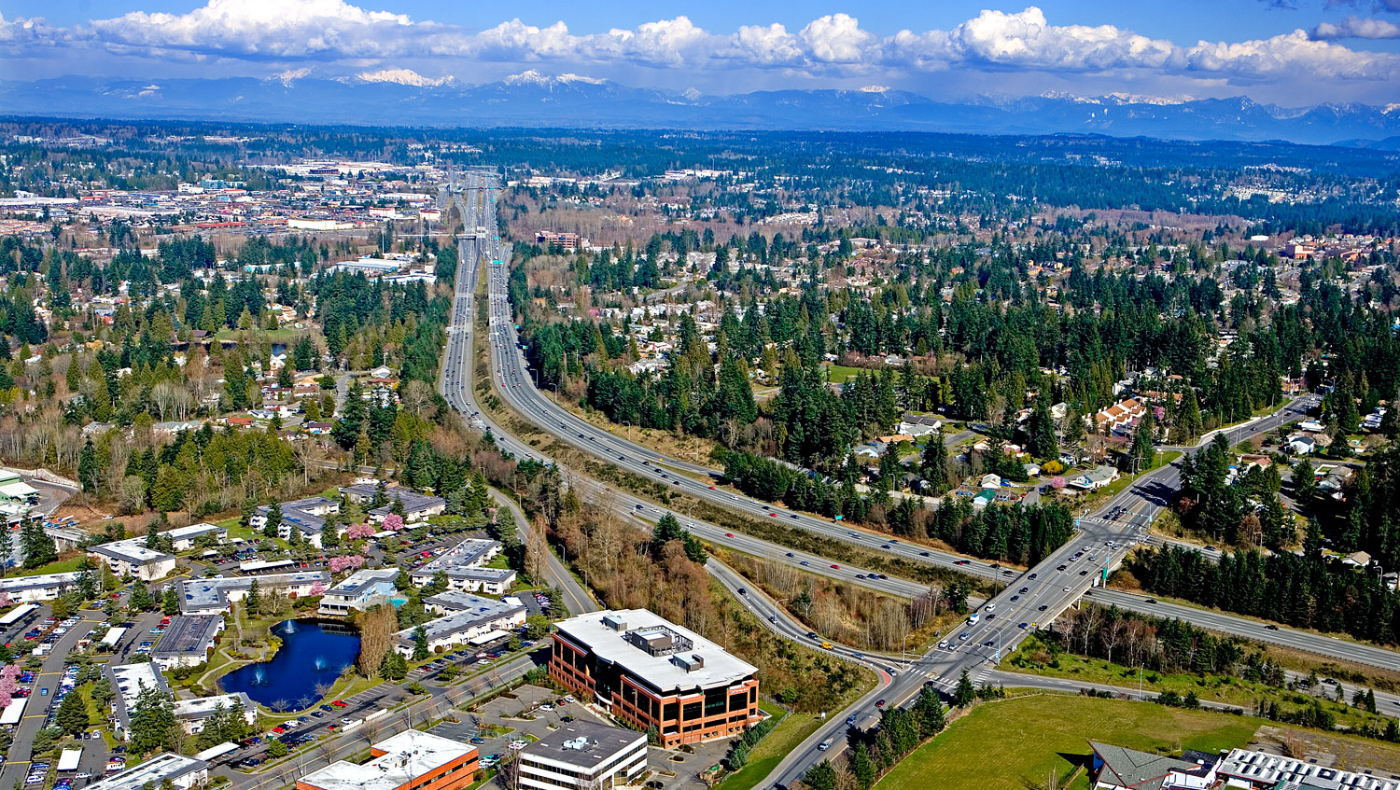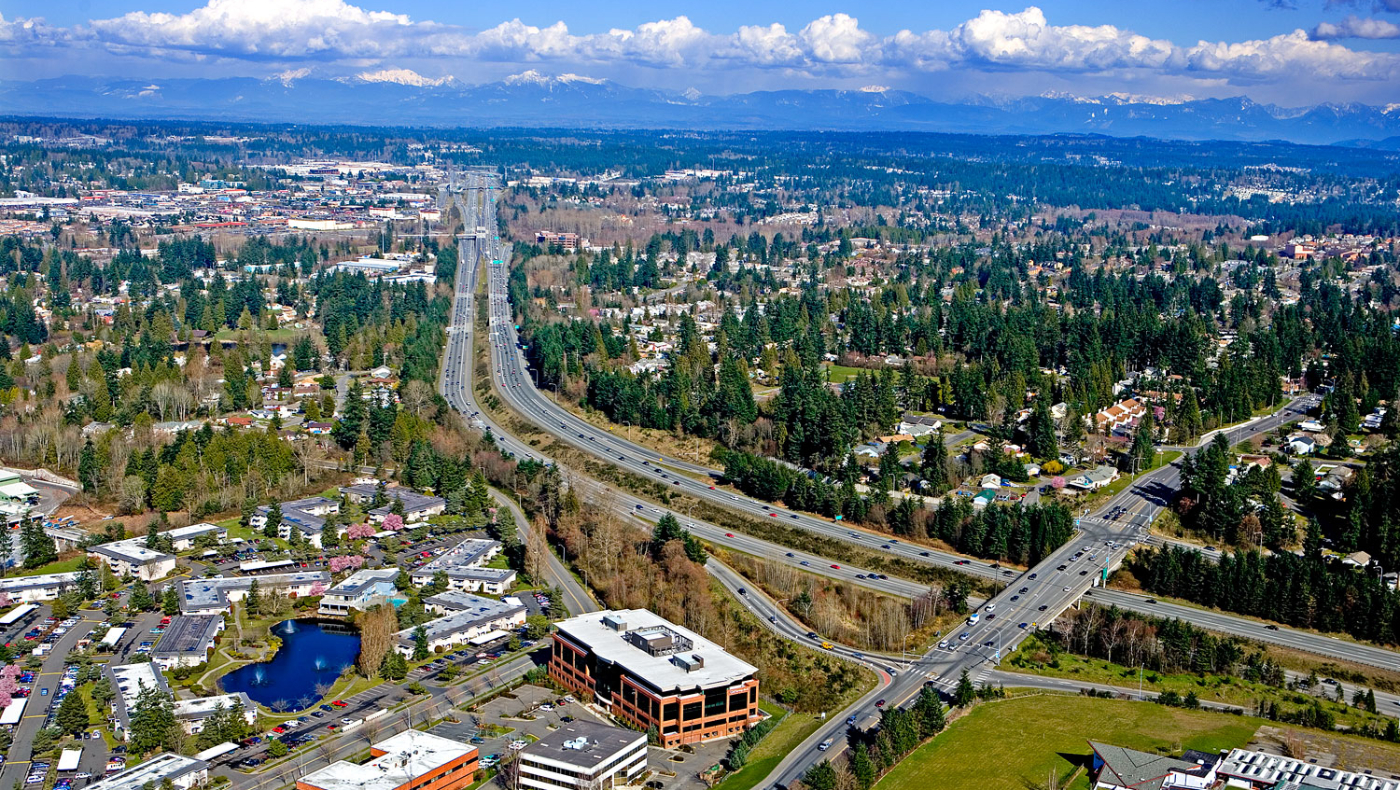 Mountlake Terrace's location provides easy access to many regional attractions as well as local employment centers.
Three transit lines serve Mountlake Terrace providing faster and easier commutes to Seattle and other neighboring cities, as well as the University of Washington, Washington State University and Edmonds Community College. As the southern gateway to Snohomish County, the fastest growing county in Washington State, Mountlake Terrace will be the first northbound light rail stop in Snohomish County.
The city is in the process of implementing a Town Center Plan intended to invigorate and revitalize the city center and encourage development. In 2009, the plan won the Governor's Smart Community Award for Livable and Vibrant Communities. The city is investing in new infrastructure such as roads, park improvements, utilities, new and widened sidewalks, bike lanes, street trees, new City Hall and Police Station addition to ensure that it is well-positioned to facilitate investment and accommodate redevelopment and revitalization opportunities within the Town Center and near the future light rail station. Encouraging economic development, while at the same time enhancing the city's quality of life and concern for the environment, Mountlake Terrace has adopted a Sustainability Strategy, Economic Vitality Strategy and Transit Service Strategy.
Community well-being and public safety are also priorities; residents are served by an excellent recreational system, four hospital systems within a 10-mile radius and an outstanding and diligent Police Department.
Mountlake Terrace's 260+ acres of parks and playfields offer a variety of recreational opportunities including its popular Recreation Pavilion, nine neighborhood parks, three sports complexes, and 14 sports fields. The city maintains miles of trails, including Lakeview Trail which connects the Mountlake Terrace Transit Center to the regional Interurban Trail. The city also hosts Tour de Terrace, a Seafair summer festival that attracts thousands of people from all over the region, and Arts of the Terrace Juried Art Show held each fall.
Mountlake Terrace offers Class A office space with below market lease rates, no B&O tax, competitive real estate development fees and economic incentives for land developers, and additional economic and investment benefits.
Distance From
Work:

Everett:15.6 Miles
Bellevue: 21.6 Miles
Redmond: 18.7 Miles
Seattle: 13.8 Miles

Skiing: 68 Miles
Boating: 5 Miles
K-12 School District
Major Employers
Premera/Blue Cross
Umpqua Bank
Edmonds School District
City of Mountlake Terrace
Back To Top
Population
| Population | 2000 | 2010 | 2023 | 2028 |
| --- | --- | --- | --- | --- |
| Mountlake Terrace | 20,240 | 19,694 | 22,716 | 23,576 |
Source: ESRI, 2023-10-17
Population by Age
| Population | 2010 | 2023 | 2028 |
| --- | --- | --- | --- |
| 0-4 | 1,250 | 1,206 | 1,289 |
| 5-9 | 1,102 | 1,251 | 1,230 |
| 10-14 | 1,089 | 1,301 | 1,268 |
| 15-19 | 1,247 | 1,196 | 1,260 |
| 20-24 | 1,346 | 1,480 | 1,533 |
| 25-29 | 1,711 | 1,793 | 1,858 |
| 30-34 | 1,584 | 1,696 | 1,795 |
| 35-39 | 1,423 | 1,743 | 1,644 |
| 40-44 | 1,452 | 1,651 | 1,696 |
| 45-49 | 1,642 | 1,405 | 1,631 |
| 50-54 | 1,503 | 1,472 | 1,391 |
| 55-59 | 1,279 | 1,503 | 1,416 |
| 60-64 | 1,015 | 1,422 | 1,411 |
| 65-69 | 608 | 1,216 | 1,265 |
| 70-74 | 438 | 971 | 1,092 |
| 75-79 | 416 | 617 | 840 |
| 80-84 | 301 | 384 | 501 |
| 85+ | 289 | 409 | 456 |
| 18+ | 15,492 | 18,239 | 19,036 |
| Median Age | 37 | 39 | 40 |
Source: ESRI, 2023-10-17
Population by Race
| Mountlake Terrace | 2023 |
| --- | --- |
| Total | 22,716.00 |
| White Alone | 60.38 |
| Black Alone | 5.65 |
| American Indian Alone | 1.17 |
| Asian Alone | 12.70 |
| Pacific Islander Alone | 0.97 |
| Some Other Race | 5.99 |
| Two or More Races | 13.15 |
| Hispanic Origin | 13.61 |
| Diversity Index | 69.00 |
Source: ESRI, 2023-10-17
Growth Rate
| | |
| --- | --- |
| Mountlake Terrace | 2023 - 2028 |
| Population | 0.75% |
| Households | 0.85% |
| Families | 0.91% |
| Median Household Income | 3% |
| Per Capita Income | 4% |
Source: ESRI, 2023-10-17
Back To Top
Back To Top
Households
| Population | 2000 | 2010 | 2023 | 2028 |
| --- | --- | --- | --- | --- |
| Households | 7,915 | 8,115 | 9,422 | 9,828 |
| Housing Units | 8,170 | 8,528 | 9,799 | 10,157 |
| Owner Occupied Units | | | 5,227 | 5,512 |
| Renter Occupied Units | | | 4,195 | 4,316 |
| Vacant Units | | | 377 | 329 |
Source: ESRI, 2023-10-17
Home Value
| Mountlake Terrace | 2023 | 2028 |
| --- | --- | --- |
| Median Home Value | $605,469 | $697,492 |
| Average Home Value | $625,909 | $769,675 |
| <$50,000 | 74 | 0 |
| $50,000 - $99,999 | 30 | 0 |
| $100,000 - $149,999 | 7 | 0 |
| $150,000 - $199,999 | 7 | 0 |
| $200,000 - $249,999 | 62 | 0 |
| $250,000 - $299,999 | 51 | 0 |
| $300,000 - $399,999 | 306 | 41 |
| $400,000 - $499,999 | 848 | 368 |
| $500,000 - $749,999 | 2,912 | 2,971 |
| $1,000,000 + | 233 | 712 |
Source: ESRI, 2023-10-17
Housing Year Built
| Year Range | Houses Built |
| --- | --- |
| 2010 or Later | 553 |
| 2000-2009 | 307 |
| 1990-1999 | 768 |
| 1980-1989 | 1,177 |
| 1970-1979 | 1,444 |
| 1960-1969 | 2,417 |
| 1950-1959 | 1,997 |
| 1940-1949 | 223 |
| 1939 or Before | 49 |
Source: ESRI, 2023-10-17
Back To Top
Back To Top
Income
| Mountlake Terrace | 2023 | 2028 |
| --- | --- | --- |
| Median Household | $90,690 | $106,602 |
| Average Household | $120,189 | $142,034 |
| Per Capita | $49,870 | $59,227 |
Source: ESRI, 2023-10-17
Household Income Base
| Mountlake Terrace | 2023 |
| --- | --- |
| <$15,000 | 434 |
| $15,000 - $24,999 | 329 |
| $25,000 - $34,999 | 295 |
| $35,000 - $49,999 | 800 |
| $50,000 - $74,999 | 1,809 |
| $75,000 - $99,999 | 1,505 |
| $100,000 - $149,999 | 1,936 |
| $150,000 - $199,999 | 1,243 |
| $200,000+ | 1,071 |
Source: ESRI, 2023-10-17
Back To Top
Back To Top
Commute
| Category | Commuters |
| --- | --- |
| Workers 16+ | 11,538 |
| In-County Residents | 5,291 |
| Out-of-County Residents | 6,236 |
| Drive Alone | 7,220 |
| Carpooled | 1,279 |
| Public Transport | 1,141 |
| Work at Home | 1,598 |
| Less than 5 minutes | 157 |
| 5-9 minutes | 573 |
| 10-14 minutes | 819 |
| 15-19 minutes | 1,232 |
| 20-24 minutes | 1,620 |
| 25-29 minutes | 808 |
| 30-34 minutes | 1,280 |
| 35-39 minutes | 494 |
| 40-44 minutes | 466 |
| 45-59 minutes | 1,087 |
| 60-89 minutes | 1,166 |
| 90+ minutes | 237 |
| Average Travel Time | 0 |
Source: ESRI, 2023-10-17
Source: ESRI, 2023-10-17
Employees by NAICS
| Category | Number |
| --- | --- |
| Total Employees | 6,414 |
| Agr/Forestry/Fish/Hunt | 6 |
| Mining | 0 |
| Utilities | 0 |
| Construction | 342 |
| Manufacturing | 183 |
| Wholesale Trade | 226 |
| | |
| Retail Trade | 594 |
| Motor Veh/Parts Dealers | 22 |
| Furn & Home Furnish Str | 30 |
| Electronics & Appl Store | 0 |
| Bldg Matl/Garden Equip | 109 |
| Food & Beverage Stores | 232 |
| Health/Pers Care Stores | 121 |
| Gasoline Stations | 13 |
| Clothing/Accessory Store | 0 |
| Sports/Hobby/Book/Music | 36 |
| General Merchandise Str | 31 |
| Misc Store Retailers | 0 |
| Nonstore Retailers | 0 |
| | |
| Transportation/Warehouse | 161 |
| Information | 86 |
| | |
| Finance & Insurance | 1,843 |
| Cntrl Bank/Crdt Intrmdtn | 130 |
| Sec/Cmdty Cntrct/Oth Inv | 17 |
| Insur/Funds/Trusts/Other | 1,696 |
| | |
| Real Estate/Rent/Leasing | 70 |
| Prof/Scientific/Tech Srv | 381 |
| Legal Services | 46 |
| Mgmt of Comp/Enterprises | 100 |
| Admin/Support/Waste Mgmt | 113 |
| Educational Services | 491 |
| HealthCare/Social Assist | 611 |
| Arts/Entertainment/Rec | 215 |
| | |
| Accommodation/Food Srvcs | 349 |
| Accommodation | 7 |
| Food Srv/Drinking Places | 342 |
| | |
| Other Srv excl Pub Admin | 386 |
| Auto Repair/Maintenance | 24 |
| Public Administration Emp | 198 |
Source: ESRI, 2023-10-17
Educational Attainment (25+)
| Mountlake Terrace | 2023 |
| --- | --- |
| Some High School | 510 |
| Graduated High School | 2,899 |
| Associates Degree | 2,015 |
| Bachelor's Degree | 4,385 |
| Graduate Degree | 2,420 |
Source: ESRI, 2023-10-17
Back To Top
Back To Top
Businesses by NAICS
| Category | Number |
| --- | --- |
| Total Businesses | 547 |
| Agr/Forestry/Fish/Hunt Bus | 1 |
| Mining Bus | 0 |
| Utilities Bus | 0 |
| Construction Bus | 49 |
| Manufacturing Bus | 13 |
| Wholesale Trade Bus | 19 |
|   |   |
| Retail Trade Bus | 50 |
| Motor Veh/Parts Dealers Bus | 6 |
| Furn & Home Furnish Str Bus | 1 |
| Electronics & Appl Store Bus | 0 |
| Bldg Matl/Garden Equip Bus | 11 |
| Food & Beverage Stores Bus | 12 |
| Health/Pers Care Stores Bus | 6 |
| Gasoline Stations Bus | 3 |
| Clothing/Accessory Store Bus | 0 |
| Sports/Hobby/Book/Music Bus | 8 |
| General Merchandise Str Bus | 3 |
| Misc Store Retailers Bus | 0 |
| Nonstore Retailers Bus | 0 |
|   |   |
| Transportation/Warehouse Bus | 13 |
| Information Bus | 8 |
|   |   |
| Finance & Insurance Bus | 39 |
| Cntrl Bank/Crdt Intrmdtn Bus | 14 |
| Sec/Cmdty Cntrct/Oth Inv Bus | 6 |
| Insur/Funds/Trusts/Other Bus | 19 |
|   |   |
| Real Estate/Rent/Leasing Bus | 21 |
| Prof/Scientific/Tech Srv Bus | 57 |
| Legal Services Bus | 5 |
| Mgmt of Comp/Enterprises Bus | 1 |
| Admin/Support/Waste Mgmt Bus | 24 |
| Educational Services Bus | 18 |
| HealthCare/Social Assist Bus | 60 |
| Arts/Entertainment/Rec Bus | 16 |
|   |   |
| Accommodation/Food Srvcs Bus | 38 |
| Accommodation Bus | 1 |
| Food Srv/Drinking Places Bus | 37 |
|   |   |
| Other Srv excl Pub Admin Bus | 69 |
| Auto Repair/Maintenance Bus | 5 |
| Public Administration Bus | 14 |
Source: ESRI, 2023-10-17
Back To Top