Community Profiles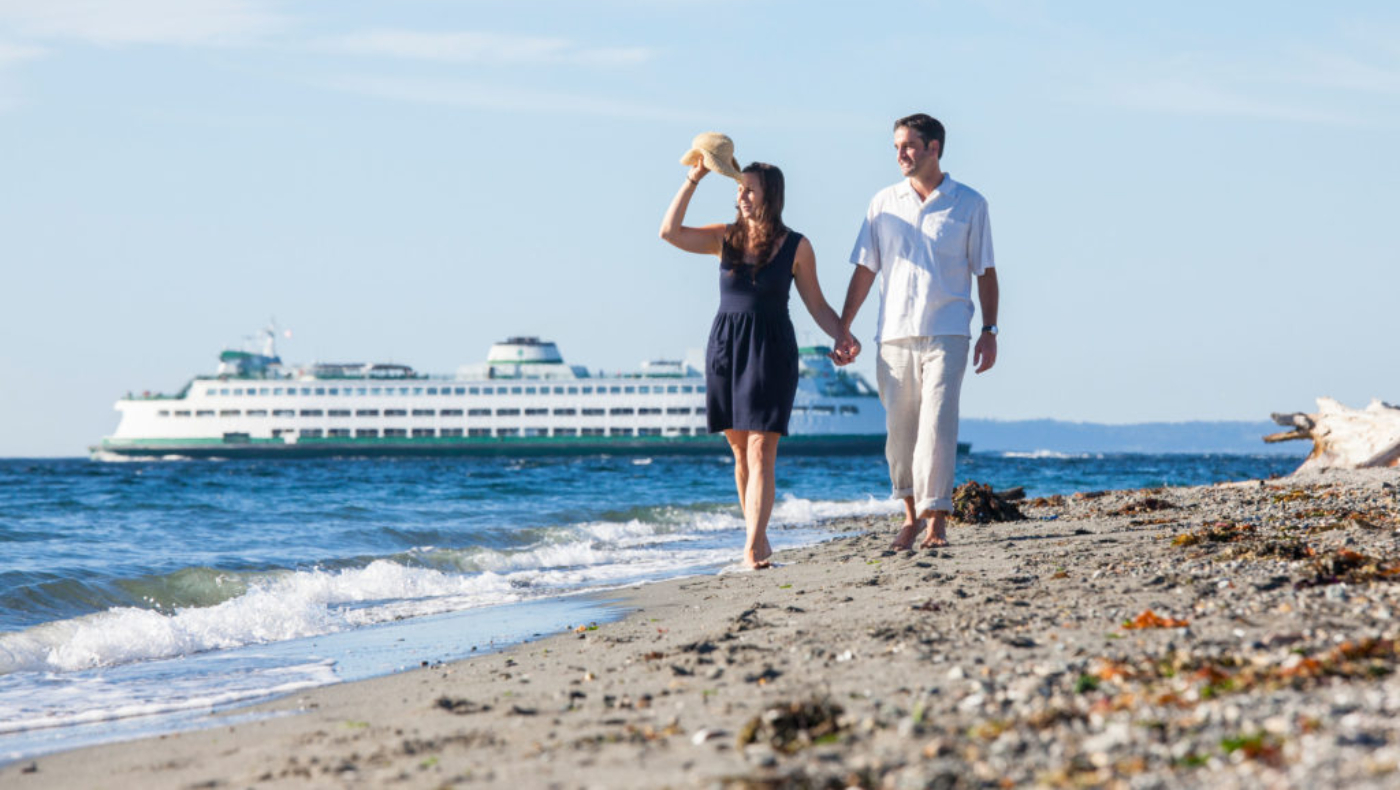 The City of Edmonds is an 8.9-square mile urban community with 41,260 people.
The third largest city in Snohomish County, Edmonds has many characteristics: a growing economic base, diverse marketplace, excellent school system, and outstanding quality of life that make it an excellent location to locate, start or grow a business.
A charming waterfront town, celebrated as an arts community, Edmonds offers a vibrant downtown, sandy beaches, stunning views, and a full calendar of exciting events. Fanning out from the central fountain, the walkable downtown boasts art galleries and day spas, as well as shops and boutiques offering clothing, garden supplies, house wares, jewelry, books and travel accessories, specialty wine and food stuffs. Restaurants, cafes and bistros, offer a delicious dining experience and beachfront eateries with outdoor tables provide scenic views of Puget Sound, the Olympic Mountains, and magnificent sunsets. Shopping and dining opportunities are also found along Highway 99, punctuated by the multiethnic "International District," and the neighborhood commercial districts of Westgate, Five Corners, Firdale Village, and Perrinville.
The City of Edmonds is committed to supporting and retaining its business community and enhancing economic development. Economic Development Department staff proactively work to strengthen the Edmonds economy, create a more business-friendly environment, and work with the Edmonds Chamber of Commerce, Port of Edmonds, elected officials and City staff on policies to bolster the retail, service and commercial sectors.
Distance From
Work:

Everett:15 minutes
Lynnwood: 10 minutes
Bellevue: 30 minutes
Seattle: 25 minutes

Skiing: 60 minutes
Boating: 5 minutes
K-12 School District
Major Employers
Edmonds School District
Swedish Hospital Edmonds
City of Edmonds
Rick Steves' Europe
WinCo
Back To Top
Population
| Population | 2000 | 2010 | 2023 | 2028 |
| --- | --- | --- | --- | --- |
| Edmonds | 39,519 | 39,723 | 43,085 | 43,595 |
Source: ESRI, 2023-10-17
Population by Age
| Population | 2010 | 2023 | 2028 |
| --- | --- | --- | --- |
| 0-4 | 1,772 | 1,641 | 1,694 |
| 5-9 | 1,867 | 1,912 | 1,872 |
| 10-14 | 2,222 | 2,173 | 2,066 |
| 15-19 | 2,414 | 2,087 | 2,053 |
| 20-24 | 1,908 | 1,970 | 1,725 |
| 25-29 | 2,092 | 2,220 | 2,150 |
| 30-34 | 2,029 | 2,312 | 2,416 |
| 35-39 | 2,170 | 2,530 | 2,593 |
| 40-44 | 2,627 | 2,542 | 2,735 |
| 45-49 | 3,224 | 2,430 | 2,695 |
| 50-54 | 3,379 | 2,893 | 2,541 |
| 55-59 | 3,446 | 3,329 | 2,985 |
| 60-64 | 2,991 | 3,547 | 3,102 |
| 65-69 | 2,160 | 3,424 | 3,360 |
| 70-74 | 1,665 | 3,014 | 3,224 |
| 75-79 | 1,411 | 2,148 | 2,667 |
| 80-84 | 1,169 | 1,389 | 1,862 |
| 85+ | 1,176 | 1,524 | 1,855 |
| 18+ | 32,309 | 36,060 | 36,681 |
| Median Age | 46 | 49 | 50 |
Source: ESRI, 2023-10-17
Population by Race
| Edmonds | 2023 |
| --- | --- |
| Total | 43,085.00 |
| White Alone | 74.02 |
| Black Alone | 3.29 |
| American Indian Alone | 0.64 |
| Asian Alone | 8.04 |
| Pacific Islander Alone | 0.37 |
| Some Other Race | 3.11 |
| Two or More Races | 10.53 |
| Hispanic Origin | 8.11 |
| Diversity Index | 51.70 |
Source: ESRI, 2023-10-17
Growth Rate
| | |
| --- | --- |
| Edmonds | 2023 - 2028 |
| Population | 0.24% |
| Households | 0.32% |
| Families | 0.35% |
| Median Household Income | 3% |
| Per Capita Income | 3% |
Source: ESRI, 2023-10-17
Back To Top
Back To Top
Households
| Population | 2000 | 2010 | 2023 | 2028 |
| --- | --- | --- | --- | --- |
| Households | 16,895 | 17,397 | 18,663 | 18,967 |
| Housing Units | 17,515 | 18,405 | 19,376 | 19,628 |
| Owner Occupied Units | | | 13,589 | 14,021 |
| Renter Occupied Units | | | 5,074 | 4,946 |
| Vacant Units | | | 713 | 661 |
Source: ESRI, 2023-10-17
Home Value
| Edmonds | 2023 | 2028 |
| --- | --- | --- |
| Median Home Value | $759,003 | $884,955 |
| Average Home Value | $834,684 | $959,398 |
| <$50,000 | 44 | 0 |
| $50,000 - $99,999 | 12 | 0 |
| $100,000 - $149,999 | 12 | 0 |
| $150,000 - $199,999 | 29 | 0 |
| $200,000 - $249,999 | 65 | 0 |
| $250,000 - $299,999 | 46 | 0 |
| $300,000 - $399,999 | 250 | 31 |
| $400,000 - $499,999 | 689 | 280 |
| $500,000 - $749,999 | 5,493 | 3,995 |
| $1,000,000 + | 2,045 | 3,798 |
Source: ESRI, 2023-10-17
Housing Year Built
| Year Range | Houses Built |
| --- | --- |
| 2010 or Later | 743 |
| 2000-2009 | 1,701 |
| 1990-1999 | 1,870 |
| 1980-1989 | 2,595 |
| 1970-1979 | 3,510 |
| 1960-1969 | 4,794 |
| 1950-1959 | 2,965 |
| 1940-1949 | 516 |
| 1939 or Before | 741 |
Source: ESRI, 2023-10-17
Back To Top
Back To Top
Income
| Edmonds | 2023 | 2028 |
| --- | --- | --- |
| Median Household | $108,106 | $125,514 |
| Average Household | $158,196 | $182,397 |
| Per Capita | $68,542 | $79,372 |
Source: ESRI, 2023-10-17
Household Income Base
| Edmonds | 2023 |
| --- | --- |
| <$15,000 | 552 |
| $15,000 - $24,999 | 501 |
| $25,000 - $34,999 | 975 |
| $35,000 - $49,999 | 1,377 |
| $50,000 - $74,999 | 2,660 |
| $75,000 - $99,999 | 2,385 |
| $100,000 - $149,999 | 3,827 |
| $150,000 - $199,999 | 2,140 |
| $200,000+ | 4,246 |
Source: ESRI, 2023-10-17
Back To Top
Back To Top
Commute
| Category | Commuters |
| --- | --- |
| Workers 16+ | 21,938 |
| In-County Residents | 11,714 |
| Out-of-County Residents | 10,070 |
| Drive Alone | 14,201 |
| Carpooled | 1,500 |
| Public Transport | 1,586 |
| Work at Home | 3,830 |
| Less than 5 minutes | 591 |
| 5-9 minutes | 1,848 |
| 10-14 minutes | 1,670 |
| 15-19 minutes | 2,134 |
| 20-24 minutes | 1,730 |
| 25-29 minutes | 948 |
| 30-34 minutes | 2,490 |
| 35-39 minutes | 728 |
| 40-44 minutes | 1,161 |
| 45-59 minutes | 2,489 |
| 60-89 minutes | 1,906 |
| 90+ minutes | 414 |
| Average Travel Time | 0 |
Source: ESRI, 2023-10-17
Source: ESRI, 2023-10-17
Employees by NAICS
| Category | Number |
| --- | --- |
| Total Employees | 14,885 |
| Agr/Forestry/Fish/Hunt | 3 |
| Mining | 0 |
| Utilities | 1 |
| Construction | 608 |
| Manufacturing | 178 |
| Wholesale Trade | 185 |
| | |
| Retail Trade | 1,940 |
| Motor Veh/Parts Dealers | 475 |
| Furn & Home Furnish Str | 36 |
| Electronics & Appl Store | 17 |
| Bldg Matl/Garden Equip | 86 |
| Food & Beverage Stores | 658 |
| Health/Pers Care Stores | 196 |
| Gasoline Stations | 26 |
| Clothing/Accessory Store | 55 |
| Sports/Hobby/Book/Music | 255 |
| General Merchandise Str | 136 |
| Misc Store Retailers | 0 |
| Nonstore Retailers | 0 |
| | |
| Transportation/Warehouse | 281 |
| Information | 245 |
| | |
| Finance & Insurance | 471 |
| Cntrl Bank/Crdt Intrmdtn | 173 |
| Sec/Cmdty Cntrct/Oth Inv | 129 |
| Insur/Funds/Trusts/Other | 169 |
| | |
| Real Estate/Rent/Leasing | 778 |
| Prof/Scientific/Tech Srv | 994 |
| Legal Services | 205 |
| Mgmt of Comp/Enterprises | 7 |
| Admin/Support/Waste Mgmt | 435 |
| Educational Services | 705 |
| HealthCare/Social Assist | 4,011 |
| Arts/Entertainment/Rec | 425 |
| | |
| Accommodation/Food Srvcs | 1,975 |
| Accommodation | 91 |
| Food Srv/Drinking Places | 1,884 |
| | |
| Other Srv excl Pub Admin | 833 |
| Auto Repair/Maintenance | 85 |
| Public Administration Emp | 763 |
Source: ESRI, 2023-10-17
Educational Attainment (25+)
| Edmonds | 2023 |
| --- | --- |
| Some High School | 576 |
| Graduated High School | 4,943 |
| Associates Degree | 3,137 |
| Bachelor's Degree | 11,365 |
| Graduate Degree | 6,115 |
Source: ESRI, 2023-10-17
Back To Top
Back To Top
Businesses by NAICS
| Category | Number |
| --- | --- |
| Total Businesses | 1,642 |
| Agr/Forestry/Fish/Hunt Bus | 1 |
| Mining Bus | 0 |
| Utilities Bus | 1 |
| Construction Bus | 101 |
| Manufacturing Bus | 34 |
| Wholesale Trade Bus | 30 |
|   |   |
| Retail Trade Bus | 178 |
| Motor Veh/Parts Dealers Bus | 27 |
| Furn & Home Furnish Str Bus | 8 |
| Electronics & Appl Store Bus | 5 |
| Bldg Matl/Garden Equip Bus | 19 |
| Food & Beverage Stores Bus | 26 |
| Health/Pers Care Stores Bus | 21 |
| Gasoline Stations Bus | 4 |
| Clothing/Accessory Store Bus | 14 |
| Sports/Hobby/Book/Music Bus | 43 |
| General Merchandise Str Bus | 11 |
| Misc Store Retailers Bus | 0 |
| Nonstore Retailers Bus | 0 |
|   |   |
| Transportation/Warehouse Bus | 28 |
| Information Bus | 24 |
|   |   |
| Finance & Insurance Bus | 104 |
| Cntrl Bank/Crdt Intrmdtn Bus | 30 |
| Sec/Cmdty Cntrct/Oth Inv Bus | 35 |
| Insur/Funds/Trusts/Other Bus | 39 |
|   |   |
| Real Estate/Rent/Leasing Bus | 90 |
| Prof/Scientific/Tech Srv Bus | 207 |
| Legal Services Bus | 53 |
| Mgmt of Comp/Enterprises Bus | 2 |
| Admin/Support/Waste Mgmt Bus | 51 |
| Educational Services Bus | 32 |
| HealthCare/Social Assist Bus | 273 |
| Arts/Entertainment/Rec Bus | 36 |
|   |   |
| Accommodation/Food Srvcs Bus | 138 |
| Accommodation Bus | 13 |
| Food Srv/Drinking Places Bus | 125 |
|   |   |
| Other Srv excl Pub Admin Bus | 184 |
| Auto Repair/Maintenance Bus | 16 |
| Public Administration Bus | 24 |
Source: ESRI, 2023-10-17
Back To Top