Community Profiles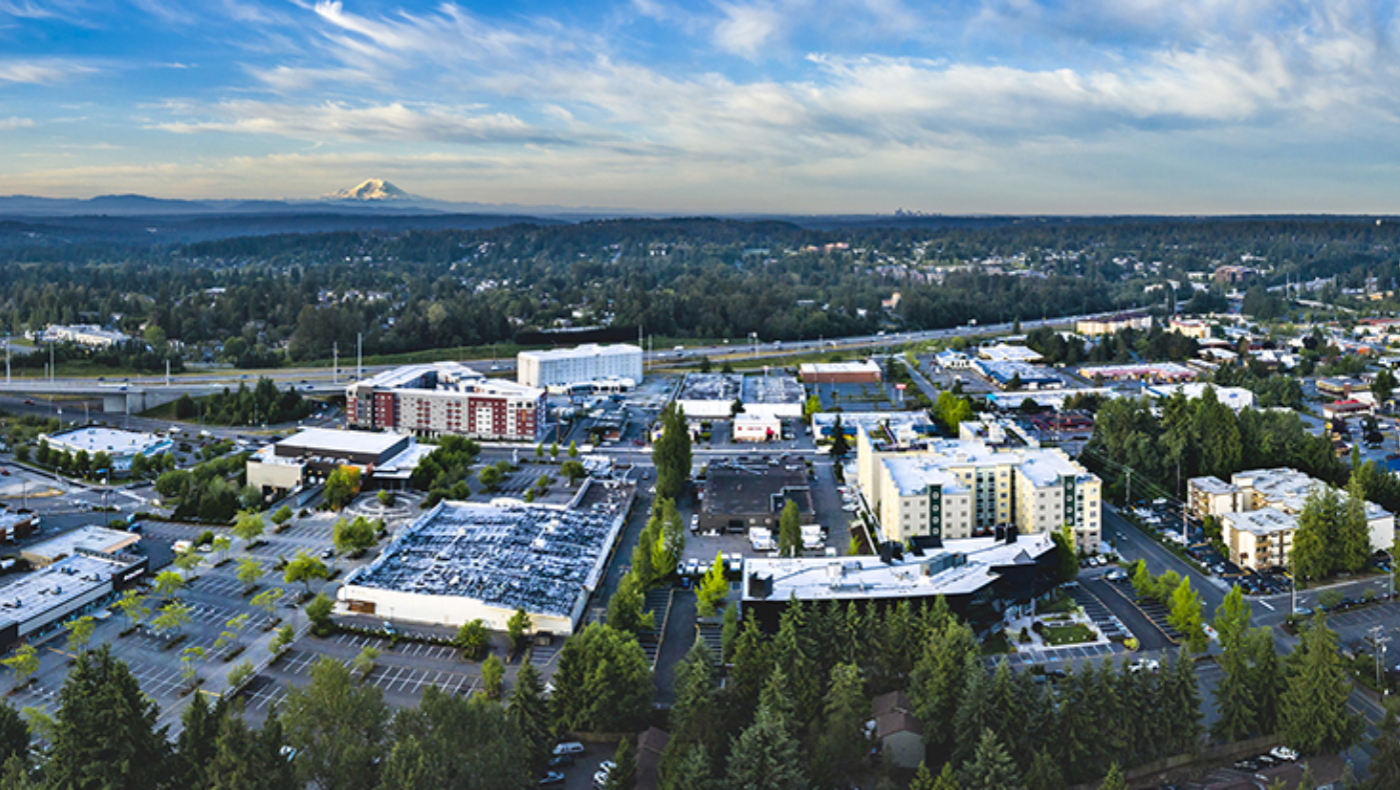 Lynnwood has a rich history of steady growth and strong entrepreneurial spirit. Lynnwood is located where Interstates 5 and 405 intersect, equidistant from Seattle (16 miles), Bellevue (19 miles) and Everett (13 miles) and serves a large, growing trade area and workforce.
With a competitive tax structure, quality office space and educated work force, the Lynnwood area is a desirable business location. A diverse core of businesses includes, professional services, F.I.R.E., aerospace, bioscience and information technology.
Lynnwood is a Regional Growth Center designated to accommodate projected employment and residential development in South Snohomish County. Alderwood Mall draws shoppers from far and wide with 175 upscale stores, restaurants, and a state of the art 16-screen cinema. The lodging and hospitality sector is strong providing a convenient location within the Central Puget Sound area. The Lynnwood City Center is becoming a vibrant commercial center and an appealing place to live, work and play. There are a wide range of projects completed or underway intended to significantly upgrade the city's transportation network, add new public spaces and parks, build housing, improve cultural attractions, create a pedestrian-friendly environment, and enhance livability in Lynnwood's City Center. The City is currently working with Sound Transit on the planning and design for the Lynnwood Link Extension, which will bring Light Rail Transit to Lynnwood mid-2024.
Lynnwood residents enjoy a unique quality of life, filled with many amenities. Edmonds Public School District is highly regarded and has served Lynnwood since the City's incorporation in 1959. Edmonds College is located in Lynnwood and hosts the Central Washington State University's Lynnwood Center. Year- round recreational options include a municipal golf course, 22 city parks, public tennis and basketball courts, sports fields, and the Lynnwood Recreation Center featuring 5 swimming pools, 2 water slides, a water playground and a 3,000-square foot cardio/weight room. Lynnwood provides a great deal more for residents, businesses, and visitors!
Distance From
Work:

Everett:20 minutes
Bellevue: 30 minutes
Seattle: 30 minutes

Skiing: 40 minutes
Boating: 15 minutes
K-12 School District
Major Employers
Comcast
Pemco
Zumiez
Receivables Performance Management
Nordstrom
Macy's
Fred Meyer
Edmonds School District
Edmonds Community College
City of Lynnwood
Lynnwood
Population
Population
Growth Rate
2.19%
Housing & Income
Income Projection
Median Household
$76,833 $93,719
Average Household
$106,444 $125,105
Per Capita
$42,724 $50,806
Workforce
2023 Retail Trade Businesses
Businesses
435
Employed
7,537
2023 Accommodation/Food Service
Businesses
215
Employed
3,605
2023 Food Service/Drinking Estab
Businesses
194
Employed
3,148
2023 HealthCare/Social Assist
Businesses
242
Employed
2,679
2023 Prof/Scientific/Tech Service
Businesses
196
Employed
2,344
2023 Educational Services - Businesses
Businesses
61
Employed
2,203
Average Commute Time
0 min.
Resident Commuters
10,004
Non-Resident Commuters
8,745